Ok you guys I haven't used this blog for forever so no judgement on it, im just using it as a base for somewhere to write and post pictures!
Ok so my friend won a competion which meant that we got to go in some kind of exclusive pen for 'bloggers' and also to see the movie! so we arrived in London at 11, and had a look around, the banners were all up, and the red carpet was set up where one side was the Enchanted Forest, and the other was the Dark Forest. very clever and beautiful! We didnt have anything to do for a while and we heard Jessie J was performing at HMV so we hopped on a tube and watched her, nice little bonus. [for people who dont know Jessie J is a very famous singer in the UK].
We then went back to Leicester square and made our way into the pen. I heard that Josh Horowitz [SuperJosh from MTV] was around, so I decided to go on a stalk, I made it look like I was lost on the red carpet and didnt know where I was going, but I saw him then and we rushed over to him and were like Hi can we have a picture, and he was like yeah sure. So we got a picture with him!!! I said that he was so famous in our fandom and that we all loved him!! He was so humble.
So we then went screaming down the red carpet and pretty sure we got in a guys video because he turned around and was like 'oh we've already got girls screaming'
So the talent started to arrive, but of course the big one we all wanted to see was Kristen. i remember when the guy said here she is I was holding my breath to see what she was wearing. I was not disappointed! ADORED her dress! so beautiful, and of course she is so beautiful! But we couldnt see her yet as the red carpet was in a horseshoe shape. We got to chat to some of the stars, and i got to interview one of the dwarves which was awesome! Charlize went past us which is a shame. We got to talk to Rupert, Sam and the costume director Colleen. My friend videod it so I will have to hunt that down! Sam came along and we said how much we loved him and my friend gave him a present of M&Ms! He is very funny and thought it was a fish! he then said he couldnt possibly take them from us, but we let him have them as a present! He was lovely and let us have pictures.
Then I saw her. She was having an interview done so close to us! A guy told us that he would bring Kristen over to us, which was amazing! But she was SO close to us then she got taken away. Sam was still near us and I was like, im so sorry i just really love her, we love you too though. and he was likes its ok! LOL. Anyway I thought Ive got to go for this so as she was walking away I like sprinted down to the end of the pen and just as she was walking past I said 'Kristen please can you sign my ipod' and she turned around and signed it :') And then I said 'I love you so much' and she said 'Thank you so much' with this lovely smile :D God i love her. Just thought i should mention aswell that as she was walking down and I was running down I heard her say like 'Fuck Fuck Fuck' or something! very funny!
So she then went in and we followed her in basically, as we were going to see the movie. So we were in the foyer with her and I was just staring at her. We were being ushered in but i just stood there looking at her ;) My friend asked for a picture with her, but Ruth said no, which is a shame :(
So we went to get seated, and then they all came out to introduce the movie. As Kristen came on she was so cute and lots of people were screaming I love you. As she went of the stage she did a little dance and then took her shoes of and everyone was like awwwwwwww. I then shouted We Love You as she went out!!!
So we then watched the movie. IT WAS SO SO SO SO SO AMAZING. seriously you guys are going to love it. As im typing this im just thinking about how i cannot wait to see it again and again! Kristen was flaweless, so beautiful as the princess and her accent was amazing. I was sat on the edge of my seat the whole time and my emotions were through the roof, the expressions on my face were hilarious! I went from hateing characters, to loving them, to going YEAH to crying! Seriously, SUCH an epic movie. Probably my favourite movie Kristen has ever done!! [apart from the one that starts in Twi and ends in Light] The dwarves were hilarious. Charlize was badass, Chris was hunky, Sam was sweet. Seriously, so so so so good.
Then the movie was over, lots of applause. Had to wait 2 hours for our bus so we hung around by all the cars for ages. People were coming out of the theatre and out popped Lizzy Pattinson! And then Marcus and Sam! Was nice to see them supporting Kristen!
Would have been great to have seen Rob too, but just knowing they were at the afterparty together was enough :')
Here are my pics [I got pictures with alot of the cast aswell, but I dont like my face so....LOL]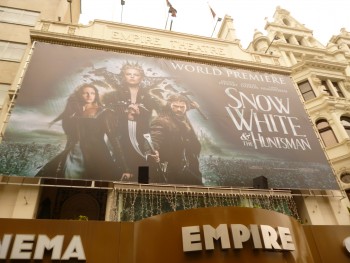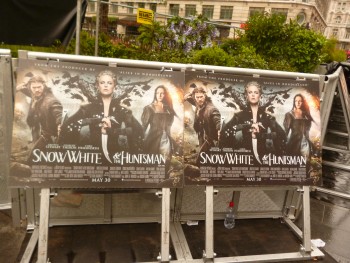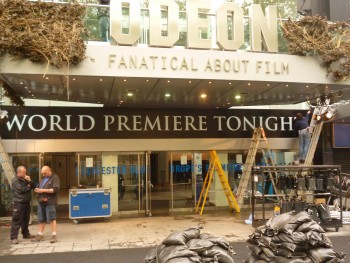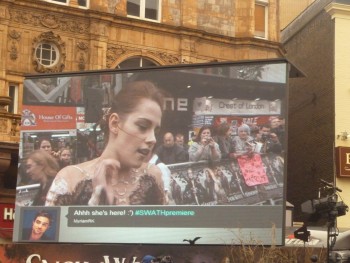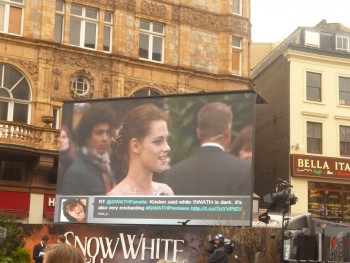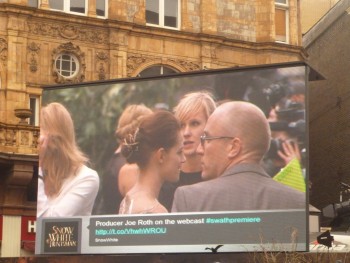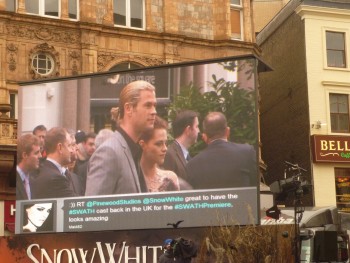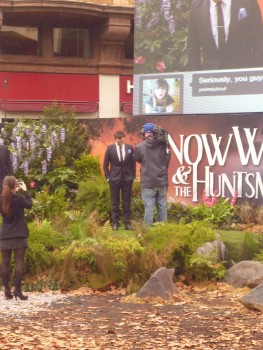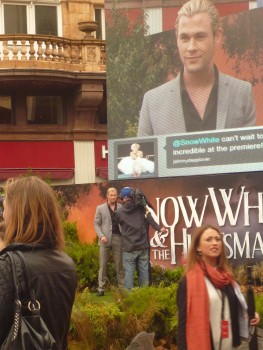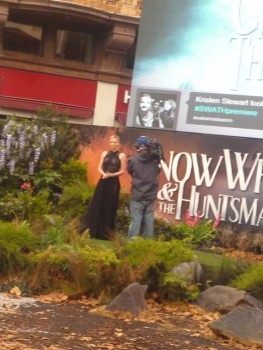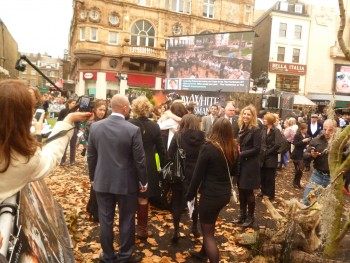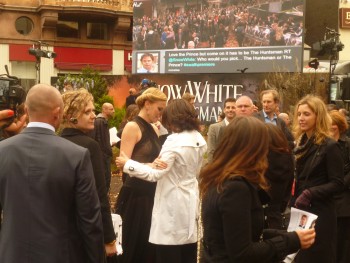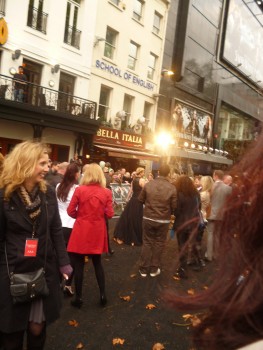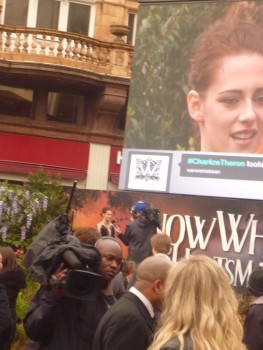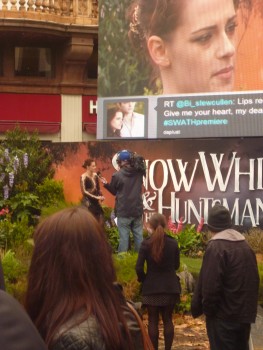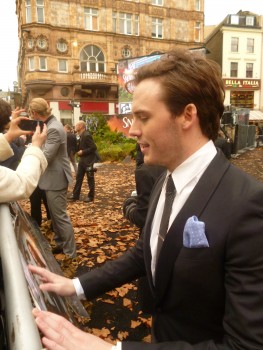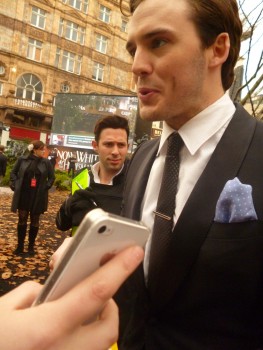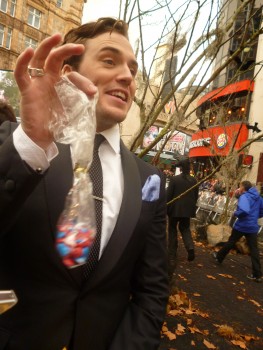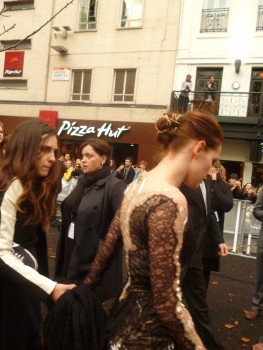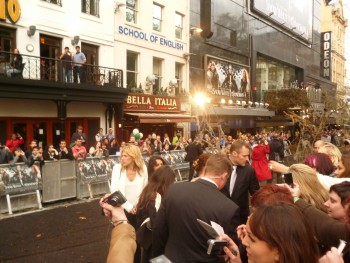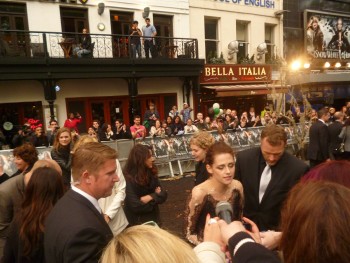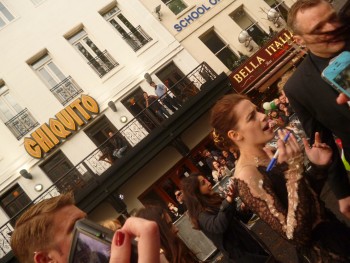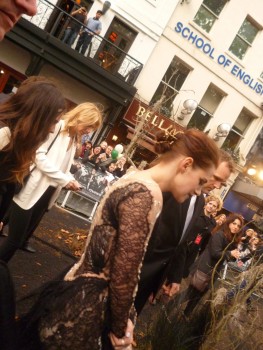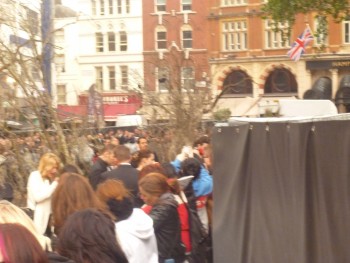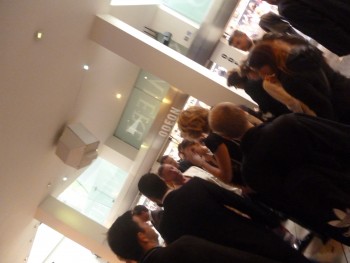 Kristen in the Odeon entrance with us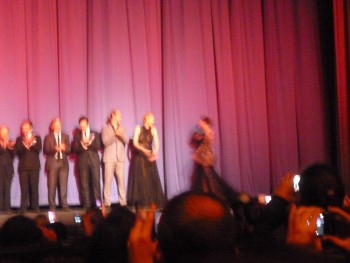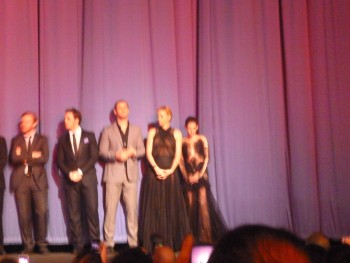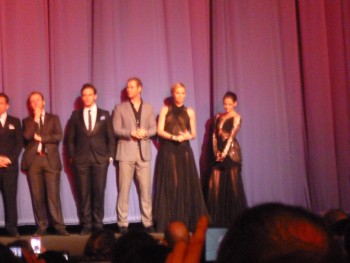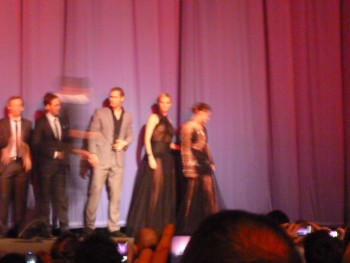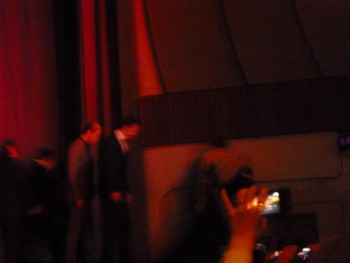 lol this is Lizzy and Marcus and Sam, you cant see them very well!